First race 19-21 july in Jade North Germany!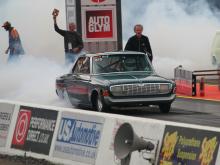 In 2016 we crashed and t took us 2.5 yeat ro rebuild the Taunus. First race will be 19-21 Juli in Jade North Germany.
More info here: https://www.jade-race.com/
Come all to see the Taunus in action. We will use this event for testing, and settng up the suspension.
Thanks to all who bought parts at Taunusparts.com and supported us. This made it possble to be back on track!
I can take some parts with me, so you do not have topay shipping. Email me.