Next race: 14/15 september Clastres Dragway France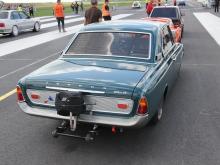 Our next race will be 14/15 september at Clastres Dragway in the north of France. First time we will race there, it is a well prepared track.
See you there!
In the meantime we fxed the front brakes so we can make a porper burnout holding the foot on the front brake.
By the way, the brakes are Brembo Alumnium Maza RX7 Turbo 2, on Volvo 240 spindles, Volvo 960 turbo rear discs mounted on the front, Volvo 740 main brake cilinder. Brake pads are ECB yellow. Real international brakes!