Clastres race, top weekend.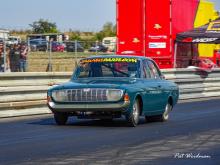 We went to Clastres in France for the first time and I must say we had a top weekend! The track is very good as is the organisation. We had great fun and we will go there next year.
With low boost the Taunus ran 9.6 sec and 230 kmh.Season is over now, but next year we will increase boost and hope to run 9.0/250kmh as we did before the crash.